A tachi signed Tomomura. It was designated Jūyō Bunkasai on September 24th, 1941, and is 2 shaku, 6 sun, 2 bu long – 79.4 cm. The owner the Sahara Hachimangu Shrine submitted this to the Oita Prefecture Police on January 19th, 1946. They turned it over to the Occupying Forces. These Forces were only remembered by a 'red arrow' marking, so they may have been the 32nd. Field Artillery Battalion. The JB set # is 401, and the Yamanaka # is 25. It is also pictured in the book Koto Henby on page 27. Harry AFU Watson later translated this book into english.
This blade was 'found' about 1994. A man visited a yard sale in Detroit, Michigan. There he asked if they had any swords for sale. The sellers entered the house, and returned with a fully mounted tachi. They said that the wife (of Japanese decent), had been given this by a former boyfriend. The yard sale was so they could return to California, so that may have been where she had been given this blade. This couple wanted $75 for the blade. The buyer offered $50, and they settled on $60.

The buyer did not collect Nihontō so he took it to a friend who did. That friend offered him $300. The new owner figured it was worth far more than that. So he lost a 'friend' and took it to a sword show. A friend of mine was at that show, and was offered it. He and another headed off to get more money. By the time they returned the price had quadrupled. It was finally sold in the new owners living room, with a California / Japanese dealer (in the room) beating out a Japanese dealer on the phone. The final price was $100,000 and a Rolex watch.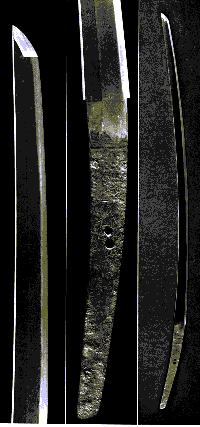 This tachi then went back to Japan, and was shown in the Token Bijūtsū magazine by the NBTHK. The last I heard was the dealer who bought this blades was whining and complaining about all of the problems, it has caused him. But I have not heard as yet that it was returned to the Sahara Hachimangu Shrine, so he probably recovered his investment. And as most of us know Japanese Sword Dealers will whine and complain no matter what. They wear gold Rolex watches and drive Mercedes, but complain about how bad business is. My life should be that bad.
The missing Jūyō Bijūtsū tachi signed Tomomura .